Plastering London Barnes SW13
---
Plaster repair to a kitchen ceiling in Barnes SW13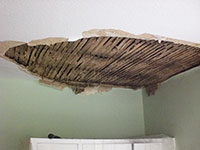 The
Barnes plasterer
was called to this terraced house in Barnes to carry out a
plaster repair to a kitchen ceiling
which had collapsed following a leak from above.
Our
professional plasterers
removed any
old loose plaste
r & squared up the ceiling hole.
Plaster & lath ceilings
are seldom level & this one was no exception. This required the Barnes plasterer to
level up the ceiling
with battens before affixing a piece of plasterboard.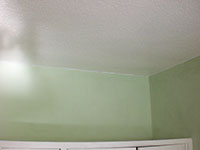 Next a
layer of plaster
was applied creating a
neat ceiling join & a smooth surface
ready for painting or wallpapering.
As the rest of the ceiling had textured wallpaper a new piece of wallpaper was pasted onto the repair area once the plaster had fully dried out & finally the
ceiling was painted
.
One
invisible ceiling repair
completed.
---